It is with a great amount of thought and a very heavy heart that we have decided to close the rescue at this time. We have been talking and thinking about this for a long time, but wanted to keep things going for as long as possible. We are still here for any of the chinchillas we had adopted out if they need to return, but we will not be taking in any new surrenders. This means we may still periodically have a chinchilla looking for a home, but it won't be on a regular basis like before. There are a few chinchillas that are left in the rescue, but these are ones that will remain in our care due to age or health problems.
We greatly appreciate your support over the years and want to say thank you to everyone. We are hopeful that we may be able to continue our rescue efforts in the future.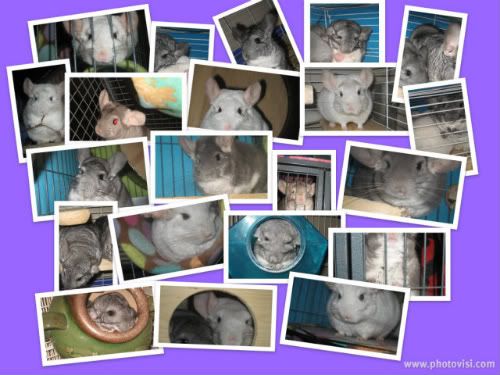 Welcome to the Jacksonville, FL Chinchilla Rescue!  We help chinchillas find their forever home.  If you have a chinchilla you need to surrender, please do not hesitate to contact us.  If you're looking to give a chinchilla a forever home also do not hesitate to contact us!  We take in chinchillas of any age, health, and temperament.  If a chinchilla will need extra care for the remainder of their life they will remain in our home and we will provide them with the love and care they deserve.  If you have questions about chinchilla care, also please contact us at any time. Please be aware that we do not purchase chinchillas.  If we were to buy our surrenders we would not be able to take in as many as we would like and we would not be able to afford the vet care we do.
We are a small home based rescue located in Jacksonville, FL but have a great network of sources to help place chins all across the United States. If we cannot take in your Chinchilla we will do our VERY best to help find someone who can.  Our limit is 10 rescues at a time (not counting our 4 pet chins).  We do this because we want to be able to spend as much time as possible with our rescues.  We give at least an hour a day of supervised out of cage time.  With more than 10 chins we would not have enough time to let everyone have play time every day.  Please contact us if you have a chin or know someone who has a chinchilla that needs a new home.  You can reach us through the "Contact Us" area at the top of the page for surrenders, adoptions, or questions.  For surrenders we will email you back a surrender form for you to fill out to just let us know some things about your chinchilla(s).  For adoptions we will email you back an adoption application.  Price for adoptions will always be listed on the "Adoptions & Donations" page. All adoption fees go straight back into the rescue.  All rescued come with a month supply of food (PANR), a month supply of dust (Blue Cloud), and a month supply of hay (Oxbow Timothy Hay).  They may also come with some other extras they were surrendered with.  Anything they come with will always be listed.
To supplement the cost of taking in rescues we sell quality chinchilla pellets, homemade toys, and homemade organic chinchilla (and other small animal) treats. Please take a look at our products page!
I looked at all the caged animals in the shelter...the cast-offs of human society.  I saw in their eyes love and hope, fear and dread, sadness and betrayal.  
And I was angry.
"God," I said, "this is terrible! Why don't you do something?"
God was silent for a moment and then He spoke softly.
"I have done something," He replied.  "I created You." 
    ~Jim Willis